Now that the first funding is secured from the Swiss Prototype Fund, it's a good time to start a more detailed software analysis … so everyone knows what to develop. For that, I'll take a step back and re-visit some of the assumptions, and also evaluate how to fit the software requirements with the development budget we have from Prototype Fund.
Table of Contents
1. Approach to architecture
2. Planned software architecture
3. Other architecture options
1. Approach to architecture
Software development is always quite some effort (and expensive!), so generally a piece of software should re-use as much existing work as reasonably possible, and should itself be re-usable by others and for other purposes. This is especially true for this software, as it is publicly funded and open source, so already geared towards re-use.
This brings us to a pragmatic approach to software architecture that has only two rules:
"Find the most complete open source base software and use it." That's the starting point for the software architecture decision here. In the following sections, we explore the different alternatives on which this software could be based.

"If you have to write code, make it solve not one problem but a whole class of problems." Could also be expressed as a variant of the Golden Rule for writing open source software: Try not to write code. But when you have to write code, write software that you would like to find when looking for a suitable open source base software.
For the second rule from above, we need a concise high-level description of what class of problems we are trying to solve with our software. "School electrification projects in Uganda" is not a valid class of problems but rather a specific one. Ideas for how to describe our class of problems so far:
2. Planned software architecture
As discussed above, software architecture starts pragmatically from the most suitable base software, and everything else "falls into place" once that decision is done. We estimate that the UNDP Online Platform for Voluntary Bilateral Cooperation is the most suitable base software, for at least the following reasons:
We can easily reuse their open source carbon coop software as the backend in our Prototype Fund project. It has a generic workflow builder inside, which already prepares our software to also cover other use cases beyond Ugandan schools in the future. It also probably has all the reporting features that funders want.

We contribute our changes and extensions of the carbon coop software back to UNDP. Could lead to interesting opportunities related to the Article 6 activities in the future. Relevant extensions would include the verification of submitted images, videos and GPS coordinates, and reports that include links to these elements.

We (mostly @owen as I understand) build a custom mobile app that acts as the "frontend" for field users, and talks to the carbon coop software using its existing API. This custom mobile app would use web technologies plus Tauri (or similar) packaging into a mobile app, but would also include other code that accesses native features of the mobile platform and that enables an offline-first functionality. Means, the app would be happy with being offline, and will sync collected data only once it finds a reliable online connection.

We prepare our custom mobile app to be easy to generalize (though potentially at first only applicable to the "Ugandan schools" project), based on the forms that can be designed in the carbon coop software. However, these forms would be translated (semi-)automatically into prompts for video responses, and the app only exposes the video-centric interface that we want it to have. This makes the app into a tool that lets activists interface with old-school funders.

We can now lobby governments that are buying emission offsets on the UNDP carbon coop platform to update their processes by using our custom mobile app for their project. Adapting and extending our mobile app as needed for these clients will help improve that app, and would provide a means of funding for us developing it further.

I'm not proposing to drop the concept of a ClimateGains platform. This lobbying can be in addition to running our own platform, using a copy of the carbon coop software. Either that lobbying or our own ClimateGains platform or both may be successful. But only with an architecture plugging into the UNDP carbon coop software we can do that lobbying.

Being compatible with the UNDP carbon coop platform means also being compatible with host-country government platforms. This also solves one major problem that we can't address ourselves, namely double counting-claiming: somebody pitching the same project verification video to two different donors through two different channels. This is solved when the host country government has a natural monopoly on keeping track of all climate actions, and the easiest implementation of that is when all software solutions integrate with the UNDP carbon coop platform. While this may not be relevant for the Uganda school projects in the foreseeable future, it will be relevant for the majority of projects and all governmental funded ones.
From our first call with the developers of the carbon coop platform, here is a short description of their own software architecture. The official name is "UNDP Online Platform for Voluntary Bilateral Cooperation under Article 6 of the Paris Agreement" and it consists of two parts as follows. Only the first part, the "main backend software", is the one we would re-use:
With their "main backend app" selected as our base software, and after some smaller architecture decisions downstream, our software architecture now looks like this: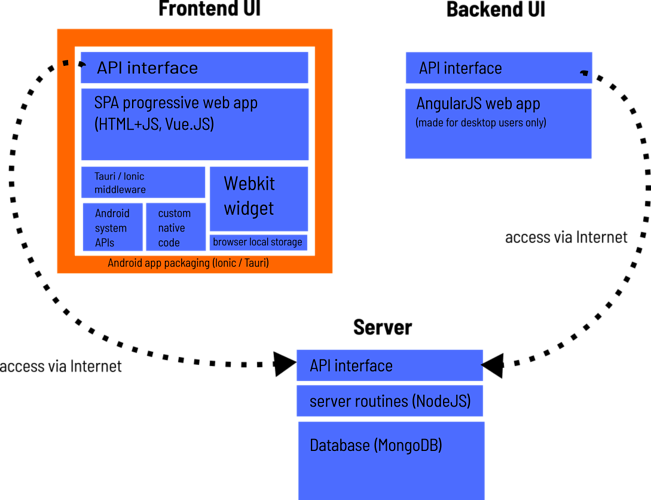 Some explanations and justifications:
3. Other architecture options
Before settling on the architecture as described above, we also had considered various alternative starting points and architectures based on them, as follows: